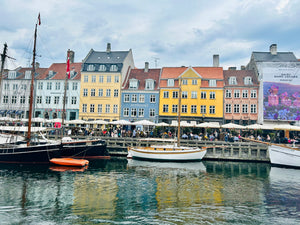 Best of Copenhagen: From Canals to Giants!
Copenhagen is a city that has it all. From canals to cafes to giants, you'll never run out of things to do and see. This charming city is known for its culture, art, and design, making it a perfect destination for travelers. Here are some of our top  Copenhagen highlights. 
1. Canal Tour - Being surrounded by water, it's no surprise that one of the best ways to experience Copenhagen is by taking a canal tour. A canal tour is a great way to see the city from a different perspective, and relax while cruising through the canals, seeing some of the most famous attractions of the city. As you pass through Christianshavn, you'll see some of the most beautiful and colorful houses, and pass by the famous statue of The Little Mermaid, which is located just a few feet away from the water.

2. Hygge Culture - Hygge is a Danish term that describes a feeling of coziness and comfort. You can experience this culture all over the city, but the best way to truly immerse yourself in it is by visiting one of the local cafes. You'll find plenty of cozy cafes around the city, and you should definitely try some of the famous coffee and pastries, while relishing in the relaxing atmosphere with soft lighting and cozy interiors. Some of the best places include Cafe Norden, Cafe Glyptoteket, and Cafe Atelier September.
3. Nydhavn - Nydhavn is one of Copenhagen's most iconic landmarks, and it's not to be missed! The area is filled with colorful houses, picture-perfect waterways, and plenty of cafes and restaurants. It's a great spot to take a stroll, relax, watch the boats go by, listen to live music, or even take a boat tour from the harbor.
4. Forgotten Giants - The Forgotten Giants are a unique public art project, created by artist Thomas Dambo. This project includes six giant sculptures, hidden around the outskirts of Copenhagen in the forests and meadows. The Forgotten Giants are made from recycled materials and were built with the intention of bringing people back to nature. They are a perfect way to escape the city for a few hours, breathe in some fresh air, and take pictures with some impressive giant creatures. You'll have a scavenger hunt experience finding them all because they're not easy to locate.
5. The Forest Tower - The Forest Tower is a stunning 45-meter-high observation tower in the heart of Gisselfeld Klosters Skove forest. From the top of the tower, you can see amazing views of the trees, lakes, and meadows, and spot Danish wildlife like deer, rabbits, and birds. Climb on up and let the views take your breath away!
Copenhagen is a city that has an abundance of history, culture, art, and design, and its diverse range of activities is what makes it so special. From the beautiful canals to the vibrant cafes, to the impressive public art projects like the Forgotten Giants, there is so much to explore and discover. So, If you're planning a trip to Copenhagen, make sure to check out these highlights and immerse yourself in everything this magical city has to offer!
If you're looking to get all the Hygge vibes inspired by Denmark check out our best selling Hygge Perfume inspired by the Danish concept of Hygge. 
---