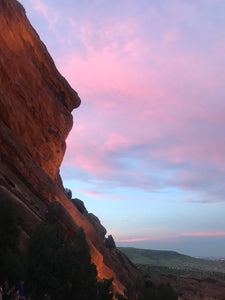 Discover the Best Hikes Near Red Rocks in Colorado

Nestled in the Rocky Mountain foothills, Red Rocks Park and Amphitheatre is an iconic Colorado landmark. Many visitors come to this area to witness a concert under the stars, overlooking the stunning geological formations that have stimulated imaginations for centuries. But beyond the beauty of the amphitheater, Red Rocks is an outdoor lover's dream, with countless trails waiting to be explored. In this blog post, we'll highlight some of the best hikes near Red Rocks, including Matthew Winters Park, Trading Post Trail, Lair O The Bear Trail, and Corwina Park – each offering its own unique combination of wildlife, natural beauty, and ancient history.


Matthew Winters Park
Matthew Winters Park is an ideal place for a family day hike, offering beautiful views of the city and the picturesque Dakota Ridge. This park boasts 10 miles of hiking trails with varying levels of difficulty and terrain, so there's something for everyone. The park also has plenty of picnic areas, making it perfect for a fun-filled outing with friends and family. Popular trails in the park include the Morrison Slide trail, Red Rocks trail, and the Dinosaur Ridge trail – which features a site with ancient dinosaur tracks preserved in sandstone.


Trading Post Trail
The Trading Post Trail at Red Rocks Park and Amphitheatre is a moderate 1.4-mile trail that provides access to some of the park's most breathtaking rock formations. Along the way, you'll see the iconic rock formations from unique angles, as well as the Morrison Formation's geological history that dates back over 60 million years. This trail is perfect for families with children and those looking to take in the park's stunning scenery without undertaking a challenging hike.


Lair O The Bear Trail
Lair O The Bear Trail, located in the foothills west of Denver, is a beautiful trail stretching 12 miles through a scenic canyon area. The trail is relatively flat but offers plenty of opportunities for rock climbing, fishing, and biking. With plenty of wildlife and a bubbling creek running through the canyon, Lair O The Bear is an ideal place for hikers to unwind and soak up the natural beauty of Colorado.


Corwina Park
Corwina Park is an unspoiled oasis that will take your breath away. This beautiful park is located in the foothills of Golden and offers many hiking trails of varying difficulty levels. Here, you can follow the trail as it meanders through forests and meadows, over streams, and through rolling hills. The trail ends atop a hill overlooking the valley for a stunning view. This park is also a great spot for birdwatchers, wildlife enthusiasts, and picnickers.

The hikes near Red Rocks offer something for every level of hiker. From families looking for a fun day out to more experienced backpackers seeking a challenge, the trails in this area have it all. Start with these four recommended hikes to get a taste of the natural beauty that Colorado has to offer. With so much to see and explore, you'll find yourself coming back time and time again. So, grab your hiking boots, pack a picnic, and head out to explore the stunning trails near Red Rocks.
If you're looking to take Red Rocks with you wherever you are, check out our Red Rocks Car Diffuser.
---