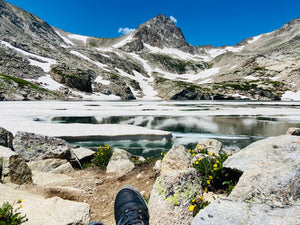 Eight Alpine Lakes to Hike in Colorado
If you're looking for the perfect outdoor adventure, Colorado offers some of the most stunning alpine lakes to explore. From pristine and isolated glacial-fed gems tucked away in the Rockies to popular trails with majestic views, hikers of all levels will find a trail that suits their needs. Whether it's a leisurely stroll or an intense day hike, there's sure to be a lake just waiting for you to discover its beauty! So grab your boots, pack up your gear, and get ready - here are some of the best alpine lakes to hike to in Colorado!
Distance: 6.4 miles
Looking for an alpine adventure without the hassle? Look no further than Herman Gulch! Just off exit 218 on I-70, this picturesque lake combines breathtaking views with easy accessibility. But don't be fooled by its convenience - Herman Gulch offers more than just a pretty picture. Its steep incline will get your heart pumping before opening up to stunning vistas that will leave you breathless. And if you're lucky enough to visit in summer, prepare to be dazzled by the wildflowers that blanket the area.
Distance: 4.9 miles 
Looking for a moderate hike with spectacular views? Look no further than Square Top Lakes, conveniently located off Guanella Pass and just across from the Mt. Bierstadt trailhead! This trail offers open vistas and a chance to explore the beautiful basin of Square Top Lakes. Lace up your hiking boots and get ready for an adventure.
Distance: 4.1 miles
Tucked away off Guanella Pass, Silver Dollar Lake is the perfect moderate hike for anyone craving stunning mountain views. But that's not all - along the way, you'll also stumble upon the picturesque Naylor Lake. And once you reach Silver Dollar Lake, the adventure doesn't have to end - you can keep trekking to the equally gorgeous Murray Lake. So, grab your backpack and lace up your boots - there's an unforgettable hike waiting for you at Silver Dollar Lake.
Blue Lake in Brainard Recreation Area
Distance: 6.6 miles
Looking to dip your toes in a picturesque alpine lake? Look no further than Blue Lake in Brainard Recreation Area! This moderate hike offers not one, not two, but THREE stunning lakes along the way - Mitchell Lake, Blue Lake, and if you're feeling daring, Little Blue Lake. Keep in mind that during the summer season, there is a fee per vehicle to enter the Brainard Recreation Area, so make sure to reserve your spot ahead of time.
Lake Isabelle in Brainard Recreation Area 
Distance: 6.6 miles
Get ready to feel like you've been transported straight to the Swiss alps on the picturesque Lake Isabelle hike. Nestled in the breathtaking Brainard Recreation area, this trek is packed with fairytale forest views, tranquil lakes, and babbling streams. And let's not forget the ultimate highlight: the stunning lake basin of Lake Isabelle itself! Just one thing to keep in mind: Lake Isabelle is a reservoir and gets drained in late July/early August. So if you're planning a visit around that time, be sure to double check the schedule.
Distance: 2.4 miles
Want to take in the beauty of an alpine lake without dedicating a whole day to hiking? St. Mary's Glacier, near Idaho Springs, is calling your name. At only 2.4 miles, the hike is short but nothing to sneeze at - you'll be climbing uphill on rocky terrain. But the payoff is well worth it when you reach the stunning lake. If you're feeling adventurous, keep going beyond the lake to find the snowfield, where you'll see people hitting the slopes on skis and snowboards. After all, St. Mary's Glacier got its name for a reason! But don't forget, this is a popular trail - plan accordingly. And while it's certainly worth the trip, note that parking at the trailhead requires $20 in cash or check.
Lower Crater Lakes in James Peak Wilderness
Distance: 6.6 miles
Looking for a moderately challenging hike with some seriously awe-inspiring views? Look no further than Lower Crater Lakes trail in James Peak Wilderness.
Accessed via a well-maintained dirt road and conveniently located parking, this hike is perfect for adventurers of all levels. But be warned: come summertime, this trail is hot and coveted, so get in early to beat the crowds! Plus, the views along the way are guaranteed to be oh-so-gorgeous. 
Distance: 8.7 miles
Want to witness nature's beauty at its finest? Look no further than the Lower, Middle, and Upper Blue Lakes trail in Southwestern Colorado! Sure, the access road may be a bit bumpy, but trust us, the views are totally worth it. The trail offers continuous breathtaking vistas of the San Juan Mountains, leading you to some of the bluest alpine lakes you've ever seen. Don't believe us? You'll have to *see* it to believe it!
If you love alpine lakes check out our Alpine Lake Soap and Alpine Lake Car Diffuser. 
---