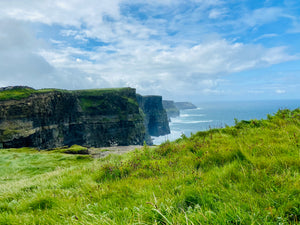 Exploring the Emerald Isle: Top 5 Must-See Spots in Ireland
Are you dreaming of an escape to the Emerald Isle? With its lush green hills, vibrant culture, and centuries of history, Ireland is a must-see destination for women travelers. From the bustling streets of Dublin to the wild beauty of Connemara, here are five must-see spots in Ireland that will inspire your wanderlust.



The Cliffs of Moher
One of Ireland's most iconic natural sites, The Cliffs of Moher are breathtakingly beautiful. Stretching along the Atlantic coast for 8km, these sheer cliffs offer stunning views out over the ocean - on a clear day it's even possible to spot the Aran Islands in Galway Bay! Be sure to explore O'Brien's Tower at the highest point for stunning panoramic views. You can also join a boat tour from Doolin to get up close and personal with these magnificent cliffs.



Dublin 
 A visit to Dublin is a must when exploring Ireland. This vibrant city has a rich cultural heritage and plenty to see and do - from visiting museums dedicated to Irish writers like James Joyce and Samuel Beckett, exploring traditional pubs with live music sessions, or taking a stroll along the River Liffey in Temple Bar. There is something new around every corner - so make sure you have your camera ready!
 

Burren 
Located in County Clare, Ireland, the Burren is a fascinating landscape full of history, culture and wildlife. The Burren is a unique landscape that combines rocky limestone pavement with lush green meadows. It's home to a wide variety of flora and fauna that can be found nowhere else in Ireland. You can also find ancient monuments scattered throughout the area, including dolmens, standing stones and Iron Age ringforts. The area is also known for its many caves and underground rivers, which offer an exciting opportunity for exploration.

 The Ring Of Kerry    
This popular tourist route circles around Iveragh Peninsula in County Kerry and offers some spectacular views across Dingle Bay and onto MacGillycuddy Reeks mountain range. Be sure to stop off during your drive at various attractions such as Staigue Fort or Skellig Michael which was featured as Ahch-To island in Star Wars: The Force Awakens!  Once you've done all that be sure to sample some delicious seafood dishes (like Guinness mussels) at one of Killorglin's many restaurants before heading back home.      

Connemara 
Located in County Galway this rugged landscape offers visitors an insight into rural Irish life with charming villages scattered throughout the area – such as Letterfrack village which is renowned for its craft shops and restaurants serving fresh seafood dishes. Make sure you take time out during your stay here too enjoy outdoor activities such as horse riding or cycling amid stunning scenery!  Don't forget about Kylemore Abbey & Gardens either; this historic site dates back over 100 years and offers an array of gardens including formal Victorian walled gardens and Japanese gardens – perfect for any nature lover looking for something unique during their trip!    


Ireland has something special for everyone who visits - whether it's exploring centuries old ruins or experiencing traditional music sessions in cozy pubs while sipping on Guinness – there is adventure awaiting around every corner! So if you're planning on visiting this emerald gem anytime soon then make sure you check out our top 5 must-see spots above – they'll be sure to give any traveler great inspiration during their journey through this amazing country! Happy travels!
P.S. Check out our Ireland collection inspired by the Emerald Isle. 
---