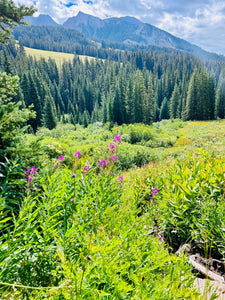 Five Must-Hike Trails in Crested Butte, CO
Known as the wildlflower capital of Colorado, Crested Butte is a hidden gem of the Rockies. With some of the best hiking trails in the state, this charming mountain town offers endless opportunities for outdoor enthusiasts. Whether you're a seasoned hiker or a beginner, Crested Butte has something for everyone. In this post, we'll highlight the top five hikes in the area, including Rustlers Gulch, Three Lakes Trail, Woods Walk, Judd Falls, and Snodgrass Trail. So, grab your hiking boots, a water bottle, and let's explore the stunning beauty of Crested Butte.


Rustlers Gulch: This hike is a true gem, and a must-do for hikers visiting Crested Butte, especially during peak wildflower season in July and early August. The trail takes you through a spectacular alpine valley surrounded by tall peaks. The path is rugged but well-defined with plenty of views and wildflowers to enjoy along the way. Rustler's Gulch is only a 30 minute drive away from Crested Butte - just take Gothic Road. Once you get to Rustler's Gulch road you can either park at the parking area right before Rustler's Gulch Road, or if you're brave you can take the 4WD road up to the trailhead. 


Three Lakes Trail: If you're looking for a hike that has it all - lakes, waterfalls, pine forests, aspens, and wildflowers - then look no further than Three Lakes Trail at Lost Lake Campground off Kebler Pass. This trail is not too challenging and offers beautiful views throughout the hike. You have a chance to see three lakes, including Lost Lake Slough, Lost Lake and Dollar Lake. There's also a lovely hidden waterfall. The hike is under 4 miles and offers beautiful views the entire way. Three Lakes Trail is located about 50 minutes outside of Crested Butte via Kebler Pass. You'll take Kebler Pass to Lost Lake Campground and from there park at the first parking area (before the fee area) so that you don't have to pay a fee. While Three Lakes Trail is a bit of a drive from Crested Butte, the trail is worth the drive. 


Woods Walk: If you're looking for a more leisurely hike, the Woods Walk trail is a perfect choice. This trail offers lovely views of the surrounding mountains and valleys. The Woods Walk is a great option for families with children or those who want a quick and easy stroll in nature. The Woods Walk is also a great choice to mountain bikers. Woods Walk is easily accessible from Crested Butte and is located just a couple minutes outside town. 



Judd Falls: Another must-do hike in Crested Butte is the Judd Falls trail. This hike is relatively short, but it's full of stunning views of jaw-dropping landscapes. The trail meanders through thick forests, taking you to the overlook of Judd Falls. The hike is perfect for both families and experienced hikers, providing an excellent opportunity to soak up the beauty of this pristine mountain location. Judd Falls is located about 15-20 minutes outside Crested Butte via Gothic Road. 



Snodgrass Trail: This trail is known for its stunning views, especially during the peak summer season. The trail takes you through the meadows of wildflowers that the area is famous for, and the panoramic views at the summit are awe-inspiring. This hike can be challenging in some spots, but the rewards are worth it. If you're looking for an easier loop check out Teddy's Trail, which is part of the Snodgrass trail system. The Snodgrass trail is located right outside the Mt. Crested Butte ski resort area.
Bonus: If you're still in the mood to explore check out the nearby ghost town of Gothic, located about 10 minutes outside Crested Butte. While Gothic may not have too many residents anymore, it does house the Rocky Mountain Biological Laboratory (RMBL), a high-altitude biological field station. The RMBL offers tours to the public. Check out the Coffee Lab, a coffee shop run by RMBL. If you'd rather check out Crested Butte, take a stroll around Elk Avenue and enjoy some good post-hike eats. We recommend checking out Sherpa Cafe and the Secret Stash. One thing to note about Crested Butte, is that it is smaller than other ski towns in Colorado like Vail and Breckenridge, making it feel more like a locals town rather than a touristy ski town. You won't find any chain stores here - if you're looking for more services like chain grocery stores you'll have to drive to Gunnison, which is about 35 minutes away. 
Whether you are an experienced hiker looking for a challenge or a family looking for a beautiful and relaxing hike, Crested Butte has it all. With these five hiking trails leading the pack, visitors can experience the sheer beauty the area has to offer. So, what are you waiting for? It's time to hit the mountains and experience the joy of hiking in Crested Butte. 


If you want to bring the scent of Crested Butte with you check out our Colorado Wildflowers Car Diffuser. 
---