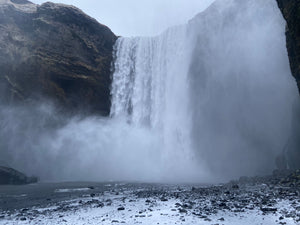 Five Places to Visit in Iceland
With its otherworldly beauty, it's easy to see why the Vikings decided to settle in Iceland. While I only had four days in Iceland, I could have easily spent more time exploring its vast beauty. If you're like me and you only have a few short but sweet days to spend in Iceland, here is how you can make the most of it.
Blue Lagoon - Known for its milky blue waters, the Blue Lagoon is one of Iceland's most popular attractions. The Blue Lagoon is not a natural hot spring but is a man-made pool that was created from run-off from a nearby geothermal power plant. Locals discovered it and found the waters soothed their skin. Now, the Blue Lagoon is one of the most popular attractions in Iceland. Most tourists are surprised to learn that the Blue Lagoon is closer to the airport than it is to Reykjavik. The Blue Lagoon is about 15-minutes away from the airport, so it makes sense to visit when you arrive (or depart). Buses depart from the airport terminal to the Blue Lagoon every hour, and the Blue Lagoon offers luggage storage. 
Skogafoss - Skogafoss is one of the biggest waterfalls in Iceland. Located on the Skoga river in the south of Iceland, Skogafoss is majestic. While the falls are beautiful from ground level, you can also climb stairs on the right side of the waterfall and take a look at the waterfall from above. 
Reynisfjara Black Sand Beach - Located on Iceland's Southern Coast, Reynisfjara Black Sand Beach is known for its black sand and dangerous sneaker waves. The ocean and its "sneaker waves" can pull you in with its strong tides, and many unsuspecting tourists have been pulled in and died. While Black Sand Beach can be deadly, it does not detract from its beauty, and as long as you don't let the water touch you, you'll be fine.
 Geysir - Geysir, which inspired the English word for geyser, is a gorgeous geothermal valley that looks like another planet in winter. Its otherworldly beauty is truly something to behold. The most active geyser in the valley is Strokkur, which ejects hot water in the air every 15 minutes or so. Despite inspiring the name "geyser," Geysir is dormant, so don't expect any spouting action.
Thingvellir National Park - Thingvellir National Park is a historic site and national park. It's known for being the site of Iceland's parliament from the 10th to 18th centuries. Thingvellir National Park is also known for being located in a rift valley that marks the boundary between the North American and Eurasian tectonic plates.  
Want to have an Iceland adventure in your shower? Check out our Iceland Travel Soap Pack.
---