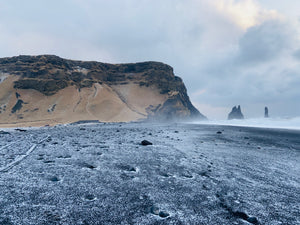 Five Reasons to Visit Iceland in Winter
When I told people I was going to Iceland in December, they asked, "Isn't it cold in Iceland in December?!" and "Why are you going to Iceland in December?" While Iceland is beautiful any time of year, it makes a stunning impression when it's at its iciest in December. With its snow-covered scenery and Christmas lights, Iceland is an absolute winter wonderland. Here are five reasons you need to visit Iceland in December:
1) Fewer tourists

I was pleasantly surprised to find fewer tourists and smaller crowds when I visited Iceland in December. While there were still tourists around, I found that some of the more popular sights, like the Blue Lagoon, were not unbearably crowded. I was even able to take some beautiful pictures with my tripod without having anyone getting in the way of my shot.
2) Cheaper flights and hotels
Since December is in the tourist off-season, there are better deals on flights and hotels. Thanks to the app Hopper, I was able to get airfare to Iceland for under $400. I was also able to get a good deal on a hotel in Reykavik for three nights close to the main shopping street for $250.
3) Northern Lights
Since December is the darkest month in Iceland, this is one of the best times to see the beauty of the Northern Lights. While a combination of good weather and timing is necessary, this is one of the best opportunities to see the lights. Most Northern Lights tours offer free re-do's in case you don't see the Northern Lights the first go-around. Unfortunately, we did not see the lights this time around, but that just gives us more reason to visit again in December.

4) Christmas Lights
Since the sun rises around 1100AM and sets around 330PM, there isn't much sunlight during December. To make the winter less dreary, Iceland becomes a winter wonderland in December with Christmas lights illuminating store shops, houses, and yes, even cemeteries. There's no better way to get in the festive holiday spirit than to walk around Reykjavik in December with the snow falling while holding a cup of hot chocolate with schnapps while taking in all the beautiful Christmas lights.

5) Stunning Winter Scenery
The tourist high-season in Iceland tends to be in the summer when Iceland has plenty of daylight and warmer temps. Tourists seem to skip the winter months when Iceland is a snow-covered wonderland, and that's such a shame. Iceland takes on a stark beauty during winter that is breathtaking. Visiting the geysers and natural hot springs in December was like visiting another planet. December is also prime time to visit Iceland's glaciers and explore ice caves.
If you're looking to bring the winter vibes of Iceland wherever you are, check out our Iceland Travel Soap Pack
---