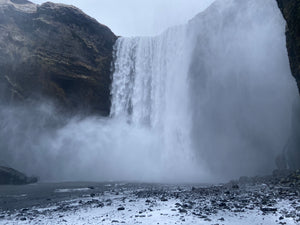 Four-Day Guide to Iceland
I fell in love with Iceland pretty much immediately. With its otherworldly beauty, it was easy to see why the Vikings decided to settle here despite its harsh climate. While I only had four days in Iceland, I could have easily spent much more time exploring its vast beauty. If you're like me and you only have a few short but sweet days to spend in Iceland, here is how you can make the most of it.
Day 1: Blue Lagoon
Start your Icelandic vacation off right with a soak at the Blue Lagoon, one of Iceland's most popular attractions. Most tourists are surprised to learn that the Blue Lagoon is closer to the airport than it is to Reykjavik. The Blue Lagoon is about 15-minutes away from the airport, so it makes sense to visit when you arrive (or depart). Buses depart from the airport terminal to the Blue Lagoon every hour, and the Blue Lagoon offers luggage storage. 
Once you've finished soaking your jet lag away, you can take a bus from the Blue Lagoon directly to Reykjavik. It's about a 45-minute drive, and the bus will drop you off near the bus stop closest to your hotel. I stayed at the CenterHotel Klopp, a very reasonably priced hotel near the main shopping street of Reykjavik. The rooms at CenterHotel Klopp were small yet cozy and perfect for a 4-day stay. Another bonus was the hotel offers free breakfast from 700AM-1000AM with an assortment of toast, cereal, eggs, and fruit. Since I was making my Iceland trip on a strict budget, I relied on the hotel breakfast every morning to cut costs and eat without having to pay an arm and a leg.
Once you've checked into your hotel, you can spend some time exploring Reykjavik and have dinner. I recommend you have an Icelandic hot dog. The most popular place to get an Icelandic hotdog is at the Baejarins Beztu Pylsur hot dog stand located near the harbor. Order a hot dog with everything, and it will only cost you around $3.00, which is probably one of the cheapest meals you can find in Reykjavik.
Day 2: South Coast Tour and Northern Lights Tour
I started day 2 of my trip with a tour of Iceland's South Coast. I did my South Coast Tour with the tour company My Day Tours and was very happy with the number of sights they packed in, especially since this was a short trip. We started the tour bright and early at 800AM and began with a visit to Skofagass waterfall, one of the most epic waterfalls in Iceland.
After our epic waterfall tour, we traveled to Black Sand Beach. Did you know the Black Sand Beach can be very dangerous? Our tour guide stopped the bus and looked us straight in the eye as he told us, "Do not turn your back to the ocean. Do not let the water touch you." The ocean and its "sneaker waves" can pull you in with its strong tides, and many unsuspecting tourists have been pulled in and died. While Black Sand Beach can be deadly, it does not detract from its beauty, and as long as you don't let the water touch you, you'll be fine.
Our last stop was another epic waterfall. Seljalandsfoss Waterfall is beautiful, and if it's not too slippery, you can even hike behind it. Our tour then concluded with a traditional Icelandic snack of smoked lamb on flatbread and Icelandic soda.
Upon your return to Reykjavik, rest up and get yourself ready for a Northern Lights Tour.
The best time to see Northern Lights in Iceland is between September-March. Depending on when you go, be prepared for your tour to get canceled due to adverse conditions. The Northern Lights are also fickle, so check conditions before you head out. Luckily, most Northern Lights tours offer a free redo in case you aren't able to see them the first time around.
I took a Northern Lights Tour with Thule Tours. The tour was basic and did not have some of the amenities that others had like free hot chocolate. It was also freezing, and most of us spent the entire trip on the bus since the conditions were too cold to remain outside the whole time. The conditions also were not ideal for the Northern Lights, so we did not see them this time around. If I were to do this again, I would have done a Northern Lights Tour by boat or a private tour with a good guide.
Day 3: Golden Circle
On day 3, I did a tour of the Golden Circle with the tour company Gray Line, a well known tour company in Iceland. The tour started off at Thingvellir National Park, which is famous for sitting on a rift valley caused by the separation of two tectonic plates, so when you visit you are actually on two continents. Thingvellir is also renowned for being the site of Iceland's first parliament, which was held annually starting in 930 A.D. Thingvellier is full of so many beautiful sights and photo opportunities, so take your time savoring its beauty.
Next up, we traveled to Gulfoss Waterfall. Gulfoss Waterfall is gorgeous, even in winter, when it's covered in snow and ice. While you can get closer views of the waterfall in summer, it's still just as pretty in winter when you can see it's frozen beauty from afar. Since I went in December, it was freezing, and I can't emphasize enough that you will need warm gloves and gear here. If you are also traveling here in winter, check out our guide on what to pack here.
Gulfoss Waterfall also has an excellent tourist center with a lovely gift shop. I purchased a traditional Icelandic sweater and some other cute gifts here for a reasonable price. So if you're looking to buy gifts and don't want to hunt all over Reykjavik for souvenirs, I recommend you check out the Gulfoss Gift Shop.
After an enjoyable tour, spend the rest of your evening either relaxing at the hotel or if you aren't utterly exhausted, explore some of Reykjavik's bars and enjoy a drink.
Day 4: Explore Reykjavik Before You Leave
On the last day of your trip, spend some time getting to know Reykjavik, a laid back city with a lot to explore. While I didn't get as much time to explore Reykjavik as I would have liked, I can recommend you make these stops part of your trip.
Museums
Reykjavik has an impressive array of museums to visit, ranging from the historical to the downright kitschy. If you veer on the side of kitschy, I recommend the Icelandic Phallological Museum, which, as they advertise, is a museum all about dicks. If that's not your thing, check out the National Museum of Iceland, which is all about the history and settlement of Iceland throughout the ages.
Hallgrimskirkja Church
Situated at the center of Reykjavik, this Instagram-worthy church is one of the most beautiful and well-known churches in all of Iceland. While I didn't get a chance to see it, I plan to visit during my next trip to Reykjavik.
Explore the City by Foot
Walking around Reykjavik is a breeze thanks to its compact size. Walking around is one of my favorite ways to get to know a city and even if you have limited time, taking a stroll along the harbor or the main shopping streets, is a great way to explore Reykjavik and all it has to offer.
Once it's time for you to leave Iceland, I guarantee you will find it hard to leave. Iceland has so much to offer and explore. Its beauty will leave a lasting hold on you and will be a place you want to visit over and over again.
---