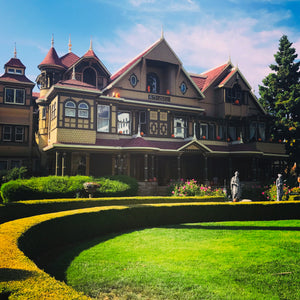 Four Spooky Road Trip Ideas
If you're into the paranormal and love a good scare we have four spooky road trip ideas for you. Whether you're looking for a quick day trip or you want to stay awhile (maybe even for all eternity buahaha) then give these four destinations a try.
Jerome, Arizona
Located only 40 minutes away from lovely Sedona, Arizona, Jerome has a rich history as a mining town that became a ghost town and then found life again as a tourist attraction. Today, Jerome is known for it's more ghostly residents.
Where to Stay: Jerome Grand Hotel is considered one of the most haunted hotels in Arizona. Room 32 is considered the most haunted with reports of doors opening and closing by themselves. Guests also report the sounds of children running and giggling in the hallways.
What to Do: Have a bite at the Haunted Hamburger, which is known for it's amazing food and some ghostly guests. It's also pet-friendly! (because even ghosts like dogs). Also check out Main Street for some cool shops and galleries where you can see a lot of the towns mining past which has been preserved.
Old Town San Diego
Old Town San Diego is known for its old-fashioned charm and it's ghostly visitors. Wander the streets and you might run into one.
Where to Stay: The Cosmopolitan Hotel is located in the heart of Old Town San Diego and is haunted by several reportedly friendly ghosts who like to cause harmless mischief. Room 11 is reportedly haunted by the ghost of the original owners youngest daughter, who likes to turn the lights on and off. There are also reports of a ghost cat that likes to roam around the hotel.

What to Do: The Whaley House, which is designated as an official haunted house by the United States Commerce Department, is located in Old San Diego. This is definitely one haunted house and more than 30 spirits are said to roam and haunt the house. You can often find the curtains on windows blowing, even when there is no wind, and people also report hearing footsteps and smelling strong tobacco. I personally visited the Whaley House and had an eerie encounter when a door, which had been locked from the inside, turned its knob in response to my knock.
If you're not too scared after visiting the Whaley House, visit Pioneer Cemetery, one of oldest cemeteries in San Diego. Car alarms from cars parked on the street often go off at random and there are reports of a lost looking woman in the cemetery who vanishes when you try to talk to her.
Winchester Mystery House – San Jose, California
San Jose, California is located about 50 minutes away from the Bay Area. While San Jose is known for being the cultural and financial hub of Silicon Valley, it also has some dark places to explore.

Where to Stay: If you want to experience a haunted hotel stay try the Westin Inn at San Jose. A ghost named Julia, a bride who was jilted at the altar and took her own life in the 1930's, is rumored to haunt the six-story hotel. Guests report hearing loud footsteps even when no one is around. There is also other ghostly activity, including a ghost who smokes and a poltergeist, on the second and sixth floors of the hotel.
What to Do: The Winchester Mystery House is a beautiful yet mysterious mansion located in San Jose, California. The mansion was built by Sarah Winchester, the widow of William Winchester, known for producing Winchester rifles. Sarah built the mansion to appease the ghosts of those who were killed by the Winchester rifle and who she believed were haunting her. The mansion is known for having doors and stairways that lead to nowhere. The mansion is huge and also has beautiful architecture and despite its weird oddities and is definitely worth checking out.
New Orleans, Louisiana 
There's no better place to get that haunted feeling than in the Big Easy. Home to voodoo shops and haunted spots galore, New Orleans will surely make a haunted impression.
Where to Stay: If you want a haunted hotel experience, stay at the Hotel Provincial in the French Quarter. I booked this hotel before knowing it was haunted and only learned it was when a ghost walking tour stopped in front of the hotel to talk about how haunted it is since it once served as a hospital during the Civil War. Guests have reported seeing blood pools and apparitions. I also personally experienced a weird event – my bed felt like someone was sitting on the edge. Needless to say, I slept with the TV on.
What to Do: New Orleans has so many haunted places to explore. The Lalaurie Mansion is rumored to be haunted by several ghosts. Madame Lalaurie was known for committing violent atrocities against her slaves, including starving, beating and mutilating them. It wasn't until a fire set the mansion alight that people learned of her cruel atrocities and drove her out of the city. The mansion is said to house the vengeful spirits of those who died there and many have reported hearing footsteps, cries, and even feeling someone tug on their clothes.
Get into the haunted fall feels with our Pumpkin Spice Latte Diffuser.
---