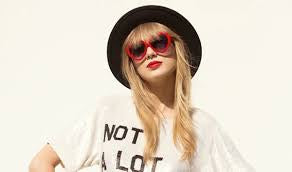 Welcome to Sniff City: We Paired Our Perfumes With Each of Taylor Swift's Albums
Are you a Taylor Swift fan? If so, we've got the perfect way to kick your love of T-Swift up a notch. This blog post is all about matching our favorite perfumes with each one of her iconic albums! We'll take a trip through memory lane, highlighting  the best scents to pair with each of her albums as part of her iconic Eras Tour. So grab your tickets and fasten your seatbelts as we prepare to explore an olfactory adventure fit for any Swiftie!
Debut Album + Rocky Mountains Perfume Oil 
Get ready to be transported back to 2006 with Taylor Swift's debut album. This energetic and feel-good album showcases Swift's raw talent and catchy songwriting skills. Our Rocky Mountains Perfume Oil pairs well with its notes of pine and wildflowers - it's a little country and floral. 
Fearless + Honey Trap
Are you ready to relive the golden age of Taylor Swift? Fearless, her second studio album, is without a doubt a defining moment in her career. From the unforgettable ballad "Love Story" to the youthful anthem "You Belong with Me," each track is a masterful blend of country and pop-infused goodness. Our Honey Trap Perfume Oil pairs well with its addictive notes of honey and luscious vanilla. 
Speak Now + Alpine Wildflowers 
Alright Swifties, get ready to put on your cowboy boots and jam out to Taylor Swift's Speak Now album! From the opening track "Mine" to the final notes of "Long Live," this album is a perfect blend of country and pop with a touch of Taylor's trademark personal lyrics. Our Alpine Wildflowers Perfume Oil pairs well with its notes of moonflower and vanilla clouds - it's a beautiful floral with a powdery finish.
Red + Double Agent Perfume Oil 
Red is a 2012 classic that features everything we've come to love about the pop star - catchy hooks, emotive lyrics, and endless sing-along moments. Tracks like "We Are Never Ever Getting Back Together" and "I Knew You Were Trouble" are guilty pleasures we just can't help but love, while more tender pieces like "All Too Well" and "Begin Again" offer a glimpse into the quieter, more vulnerable side of Swift's songwriting. Our Double Agent Perfume Oil pairs well with its notes of dark rose and vanilla - it's a darkly romantic blend. 
1989 + Wanderlust Perfume Oil 
Taylor Swift's 1989 album is my personal favorite! With infectious and uplifting anthems like "Shake It Off" and "Blank Space," it's impossible not to dance along. As you listen, you'll find yourself getting lost in the sweet nostalgia of "Wildest Dreams" and "Style." Our Wanderlust Perfume Oil and Wanderlust Eau de Parfum pair well with the fun and carefree vibe of 1989.
Reputation + Femme Fatale Perfume Oil
Taylor Swift's Reputation serves up a feisty and rebellious vibe that will have you feeling like a badass in no time. From the standout singles "Look What You Made Me Do" and "End Game" to the emotional ballads "Delicate" and "New Year's Day," Taylor delivers a perfect balance of fierce and vulnerable. Our Femme Fatale Perfume Oil and Femme Fatale Eau de Parfum pairs well with reputation with its notes of black vanilla, incense, sandalwood, and Sicilian lemon. 
Lover + Paris Perfume Oil
Taylor Swift's Lover has catchy beats and swoon-worthy lyrics. From the upbeat and catchy "ME!" to the dreamy and romantic title track "Lover," this album is a romantic dream. Our Paris Perfume Oil and Paris Eau de Parfum pair well with the dreamy, romantic pop vibe of Lover. 
Folklore + Woodlands Perfume Oil
Folklore is a musical masterpiece with its whimsical vibes and storytelling. From the dreamy and whimsical "Cardigan" to the emotional storytelling of "Betty," every track on the album takes the listener on a journey through Swift's beautifully crafted lyrics and haunting melodies. Our Woodlands Perfume Oil pairs well with its notes of patchouli, sandalwood, and honey - it's like being in the enchanted forest in Folklore.
Evermore + Hygge Perfume
Get ready to be transported to a world filled with ethereal melodies and hauntingly poetic lyrics. Taylor Swift proves yet again her artistry and storytelling prowess with this album, which features a mix of upbeat pop tracks and introspective ballads. You'll find yourself getting lost in the nostalgic vibes of "willow," the heart-wrenching storytelling of "tolerate it," and the dreamy harmonies of "ivy." Our Hygge Perfume Oil pairs well with the coziness of Evermore. 
Midnights + Adventuress Eau De Parfum 
Taylor Swift's latest album, Midnight, is one of her most captivating works yet. From the sultry track "Lavender Haze" to the dreamy synth-laden "Anti-Hero" this album is a moody pop masterpiece. Our Adventuress Eau de Parfum pairs well with the mysterious yet bright atmosphere of Midnights with its notes of Egyptian musk and red currant. 
---