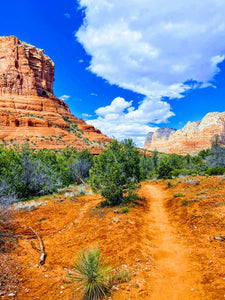 Into the Desert: Joshua Tree, Sedona, Palm Springs and Mojave
Get ready to embrace the desert vibes with our latest perfume collection! We've drawn inspiration from some of the most iconic desert destinations in the United States, including Palm Springs, Joshua Tree, Sedona, and Mojave. Picture yourself lounging poolside in a retro-inspired Palm Springs hotel, surrounded by towering palm trees and sipping on a refreshing cocktail. Or perhaps you prefer the rugged beauty of Joshua Tree, where every turn reveals stunning rock formations and vast expanses of desert landscape. Whether you're channeling your inner bohemian queen in Sedona or seeking solitude in the Mojave, our desert collection has got you covered. 

Palm Springs 
If you're looking for fun under the sun, Palm Springs is the perfect destination for you! This desert oasis is chock full of exciting activities that will keep you entertained from sunrise to sunset. Take a stroll down Palm Canyon Drive, where you'll discover unique boutiques, art galleries, and restaurants serving up some of the best food in the area. Take a dip in one of the many pools that dot the landscape. Our Palm Springs Perfume is inspired by the sunny, playful, and retro vibes of Palm Springs with its notes of prickly pear, palm, and vanilla. 


Joshua Tree
Joshua Tree is more than just a national park - it's a desert playground that's just begging to be explored! With its iconic jumbo-sized boulders and spiky yucca trees, it's no wonder that Joshua Tree is a popular destination for rock climbers, hikers, and desert dwellers alike. Our Joshua Tree Perfume is inspired by the beauty and bohemian vibes of Joshua Tree with its notes of agave and cactus flower. 


Mojave
Looking for an adventure that's all about heat, sand and cacti? Look no further than the Mojave desert! The Mojave has everything from towering sand dunes, wildlife aplenty and Joshua Trees that look like they belong in a Dr. Seuss book. It's also home to a few unique features, like the Amboy Crater, an extinct volcano with a few hundred visitors a year, and the infamous Area 51, though getting a peek inside may be more difficult than you'd imagine. Our Mojave Perfume is inspired by the beautiful mysteries of the Mojave desert with its notes of desert ghost flower and cactus pear. 

Sedona 
If you're looking for some adventure mixed with stunning scenery, Sedona should definitely be on your radar. This desert town in Arizona is surrounded by gorgeous red rock formations that are just begging to be explored. With over 200 hiking trails ranging from easy strolls to strenuous climbs, there's something for every level of adventurer. Plus, Sedona is known for its spiritual energy - some even believe that the area is full of vortexes that promote healing and meditation. Our Sedona Perfume is inspired by the awe-inspiring mysterious beauty of Sedona with notes of desert sage and sweetgrass. 
---