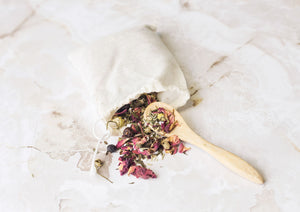 Relaxation and Rejuvenation - The Benefits of Bath Teas
After a long day, nothing is more soothing than a hot bath. But you can take your bath experience even further with the addition of bath teas. A unique blend of herbs and salts, bath teas make for a luxurious and relaxing soak that can help you unwind after a stressful day. Let's take a closer look at the benefits of using bath teas to achieve ultimate relaxation.



Reduce Stress and Unwind
The combination of ingredients in bath teas helps to reduce stress while providing your body with a dose of much-needed relaxation. The herbs used are known for their calming effects on the body as well as their ability to reduce inflammation. Salts provide an additional level of relaxation due to their mineral content. All together, these ingredients create the perfect concoction for a luxurious, relaxing soak.

Relieve Aches and Pains
Bath teas can also be beneficial in relieving aches and pains caused by physical activity or everyday life. The combination of herbs and salts has anti-inflammatory properties that can help soothe sore muscles and joints after exercise or long days spent sitting at a desk or standing on your feet all day. Additionally, the minerals from the salts help to draw out toxins from your skin that can cause irritation or inflammation over time.
Enhance Your Skin
Lastly, using bath teas is beneficial for your skin in many ways. The herbs used in the mix contain Vitamin C which helps to nourish and hydrate dry skin while promoting collagen production for firmer skin over time. The salt content helps to exfoliate dead skin cells while providing long-lasting moisture that leaves your skin feeling soft and smooth after each soak.

Bathing with herbal tea blends provides you with an array of mental and physical benefits that help you relax after stressful days. Not only do they reduce stress levels but they also provide relief from aches and pains while enhancing your skin health over time thanks to vitamins, minerals, and other natural ingredients found in these special blends made specifically for baths! So if you're looking for an extra special way to relax after a long day at work—try our herbal bath tea blends!
Our Alpine Bath Tea contains dried botanicals including rosemary leaf, spearmint leaf, rose petals, chamomile buds, juniper berries, and epsom salt.
Our Wildflower Bath Tea contains dried botanicals including chamomile, lemongrass, orange peel, lavender, rose petals, hibiscus flowers and pink Himalayan salt.
---