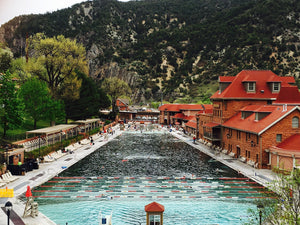 Soak Up the Fun: Must-Visit Hot Springs in Colorado
When most people think of Colorado, they picture snow-capped mountains, thrilling ski slopes, and scenic hiking trails. But did you know that Colorado also boasts some of the best hot springs in the country? After a day of adventure, nothing beats soaking in a warm and soothing hot spring pool. So pack your bags and get ready to soak up the fun, as we take you on a tour of the must-visit hot springs in Colorado.
Glenwood Hot Springs

Located in Glenwood Springs, this hot springs offers a true resort experience. It features multiple mineral hot springs pools, a spacious spa, and plenty of activities for families. The water is known to relieve sore muscles, joint pain, and stress. The towering mountains in the background add to the view making your visit even more breathtaking.


Mt. Princeton Hot Springs

This hot spring is located near Buena Vista and provides an elegant getaway with stunning views of the Collegiate Peaks. With several pools available, ranging from 95°F all the way to 105°F, there is something for everyone. The Spa and Club at Mt. Princeton Hot Springs is also available, offering a variety of massages, scrubs, and treatments. Get ready to feel like royalty. 



Orvis Hot Springs

If you prefer something more intimate and relaxing, Orvis Hot Springs might be for you. Hidden in the mountains near Ridgway, this hotspring offers a peaceful and calming atmosphere. The water contains high levels of minerals such as lithium and potassium and is kept at approximately 107-110°F, making it the perfect spot to unwind and forget about all your scheduled tasks back home.


Strawberry Park Hot Springs

This Steamboat Springs hot spring is a must-visit for nature lovers. Surrounded by a lush forest, the pools offer an escape into the wilderness. The natural mineral waters range from 100 to 104°F, catering to a perfect, comfortable soak. The beauty of the surroundings, however, is why many visitors call Strawberry Park Hot Springs their haven.



Desert Reef Hot Springs

If you're looking for something unique and out of the ordinary, Desert Reef Hot Springs near Florence will surpass your expectations. The pools range from very warm to quite cool, lending to the hot tub party atmosphere. However, the real beauty is in the surroundings, where you'll find natural rock formations, cactus gardens, and even life-size metal dinosaurs.


Avalanche Ranch Hot Springs

The Carbondale Avalanche Ranch Hotsprings is a long-standing favorite of visitors and locals alike. It has three large pools that feature warm mineral waters, giving visitors a perfect spot to soak and rejuvenate. The crisp air and beautiful mountain views provide the perfect backdrop for your relaxation.


Pagosa Hot Springs

Located in Pagosa Springs, the Pagosa Springs Resort and Spa is home to one of the world's deepest and hottest geothermal hotsprings. The waters flow in the San Juan River, and temperatures can range from 90°F to 111°F. Visitors can soak in twenty-three different mineral pools, each featuring their unique blend of minerals that cater to specific needs.

From the off-the-beaten-path Orvis Hot Spring to the sprawling Glenwood Hot Springs resort, Colorado's hot springs offer a refreshing alternative to adventure seekers and nature enthusiasts. You truly haven't experienced all Colorado has to offer till you've soaked up its hot water. So go ahead and pick your spot, and let us know what you think. We promise a trip to one of Colorado's stunning hot springs will leave you feeling revitalized and refreshed!
If you want to take the hot springs vibes wherever you go, check out our Hot Springs Car Diffuser. 
---