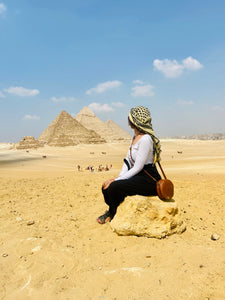 What You Should Know Before Visiting Egypt
Egypt is a once-in-a-lifetime trip. If you're traveling to Egypt, here are some things you should know before you go. 
Traveling to Egypt During Covid
As of October 2021, you need a negative COVID test to enter the country. You need to have the test done at least 72 hours before you arrive. It's also important that the test is a PCR test and not an antigen test. While I heard that Egypt requires test results to have either a QR code or a stamp from the lab on it – I found that they didn't look too closely for it. The negative result and type of test mattered more.
You also need a COVID test to leave Egypt. Luckily, it's not too difficult to arrange this. Hotels can arrange for someone to come and give you a PCR test and they can deliver results straight to your hotel within 24 hours. Keep in mind this will be around $125 so factor this into your trip expenses. I got mine done through my tour company Emo Tours here.
Tipping in Egypt
Tipping is an important thing to know before you go as you will be expected to tip tour guides, drivers, restroom attendants and anyone else who goes out of their way to help you.
You can tip in USD or Egyptian pounds. Before I left, I took $100 USD and had it exchanged for smaller bills so that I could easily give them as tips.
The amount you tip can vary based on the type of service provided. I usually tipped tour guides and drivers between 100-200 Egyptian pounds per day. Sometimes it helps to think of how much you would tip someone in your home currency. Download an offline currency conversion app so you can easily decide how much you want to tip.
 Bargaining in Egypt
One thing you should expect when visiting Egypt, is most prices are negotiable. Bargaining is expected when going to tourist shops and the Khan el-Khalili market.
Another thing to expect when taking a tour with a guide they will try to take you to shops where they get a commission. These shops are often ridiculously overpriced. You can either bargain hard or be firm and tell your guide you do not want to visit these shops.
 Safety in Egypt
While Egypt has experienced some political instability over the past decade, things have improved and crime is actually low in Egypt. You can find tourist police and military around the major tourist sites.
Egypt is a very safe country for tourists. The most unsafe part of being in Egypt is crossing the street, driving, and getting scammed.
Egypt is also safe for solo female travelers. While I would not walk the streets alone at night, I found it very safe and never felt my physical safety was threatened. While street vendors may try to bother you, they'll usually leave you alone if you ignore them.
 Getting the Most Out of Your Trip
You need a visa to travel to Egypt. You can purchase one online or just purchase one at the airport upon arrival. You can purchase one at the bank stand right before customs. They only accept cash and you can pay them in USD. The cost for a visa is $25 USD.
Hire a guide! While I usually avoid tour guides, traveling with a guide is a must in Egypt. They can give you so much more knowledge and background on the sights you're visiting, creating a much richer experience. They also arrange everything saving time and stress.
The tour companies I did tours with were: Anton's Tours, Emo Tours, and Hesham Tours. I recommend all three as I had good experiences with all of them.
I recommend staying in Giza as there's just something so special about waking up next to the pyramids. I stayed at the Pyramid Valley Boutique Hotel and had a great experience. The hotel is literally right across the street from the pyramids. I booked a hotel with a balcony and I would wake up and have coffee while looking at the pyramids. At night they also have a light show at the pyramids that you can see for free if you book a hotel with a balcony. One downside of staying in Giza is that it's not as walkable as staying in downtown Cairo and there's a lack of good restaurants.
 Happy Travels!
---