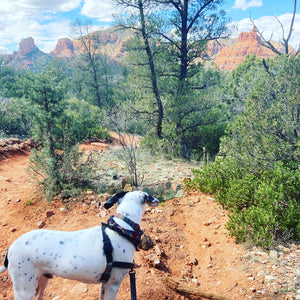 Dog Friendly Guide to Sedona, Arizona
Are you ready to explore one of the most breathtaking cities in Arizona with your furry best friend? Sedona is a hub for outdoor adventurers and a prime location for those who love to hike, relax, and soak up the natural beauty of the world. Not to mention, it's also a great destination for dog lovers! From hiking trails to dog-friendly restaurants and accommodations, Sedona has everything you and your pup could ever want for a perfect vacation. So grab your dog's leash, pack your bags, and get ready to embark on a pawsome adventure!
Where To Stay 
If you're looking for a dog-friendly hotel check out the Poco Diablo Resort. The Poco Diablo Resort is dog-friendly offers a ton of amenities including a doggy menu that you can order as part of room service. Enjoy walking around the beautiful grounds with your furry best friend and enjoy the views of Sedona from the resort. 


Where to Eat
Sedona is very dog-friendly when it comes to eating options. If you're craving Italian food check out the Hideaway House, which offers tasty Italian dog food. The outdoor seating area is dog friendly and offers beautiful creekside views. If you're looking for a large dog-friendly patio check out Vino Di Sedona, which offers tapas and a large patio perfect for sharing with your best adventure buddy. For a more relaxed outing, visit one of the many pet-friendly restaurants in town, like The Hudson or Wildflower Bread Company.
What to Do
When it comes to Sedona, there's no shortage of dog-friendly activities for you and your pup. Take a hike together on one of the many trails that allow dogs, like the Bell Rock Pathway or the Cathedral Rock Trail. After working up a sweat, cool off with a dip in Oak Creek or take a scenic drive through Red Rock State Park. Want to do something more leisurely? Check out Sedona's pet-friendly boutiques and restaurants, like the upscale Coffee Pot Restaurant or the casual and cozy L'Auberge de Sedona. So why leave your furry friend behind when there's so much fun to be had in Sedona? Bring them along and make some unforgettable memories on your next adventure.
If you're looking to bring the vibes of Sedona with you wherever you are, check out our Sedona Perfume Oil, with its notes of sage and sweetgrass.
---