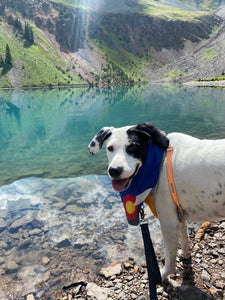 Three Dog Friendly Road Trip Ideas - Colorado, New Mexico and Arizona

Are you a dog lover looking for the perfect road trip spot? If so, we have just what you're looking for! Colorado, New Mexico and Arizona offer endless opportunities to explore with your pup by your side. From majestic mountains to sweeping canyons and vibrant deserts, these states provide plenty of exciting sights and experiences that you won't want to miss - all from locations that are pet friendly too! In this blog post, we'll be sharing our top tips on taking a fun-filled road trip through Colorado, New Mexico and Arizona - complete with great places to stay and activities that both you & your pup will love. So grab your leash & let's go!
Colorado 
Ouray, Colorado 
Ouray is located in Southwest Colorado and is known as the Switzerland of America since its nestled in the San Juan Mountains. Ouray is also known for its hot springs and plethora of hiking opportunities nearby.
Where to Stay: The River Run Cabins is located right on a river walk trail and has pet-friendly cabins if you're bringing your furry friend along. The River Run Cabins is also located next to the Ouray Dog Company, which is a doggy day camp that will watch your dogs for you while you soak in the hot springs.
What to Do: There are so many hiking opportunities near Ouray. You can do the Ouray Perimeter Trail, which encircles the entire town of Ouray and provides gorgeous views. Blue Lake hike is also an amazing hike that is located 45 minutes away from Ouray. Ice Lake and Columbine Lake are also located in nearby Silverton, CO. Ouray is also known for its hot springs with its Ouray Hot Springs pool and Fitness Center.
Where to Eat: Maggie's Kitchen and Goldbelt Bar and Grill are great options for food. They are also dog-friendly and allow dogs on the patio. If you don't want to venture out we recommend ordering from the Mine Shaft Restauraunt, which will deliver food straight to your door. We recommend their pizza!
Arizona
Sedona, Arizona
Where to Stay: If you're looking for a dog-friendly hotel check out the Poco Diablo Resort. The Poco Diablo Resort is dog-friendly offers a ton of amenities including a doggy menu that you can order as part of room service. Enjoy walking around the beautiful grounds with your furry best friend and enjoy the views of Sedona from the resort. 
What to Do: When it comes to Sedona, there's no shortage of dog-friendly activities for you and your pup. Take a hike together on one of the many trails that allow dogs, like the Bell Rock Pathway or the Cathedral Rock Trail. After working up a sweat, cool off with a dip in Oak Creek or take a scenic drive through Red Rock State Park. Want to do something more leisurely? Check out Sedona's pet-friendly boutiques and restaurants, like the upscale Coffee Pot Restaurant or the casual and cozy L'Auberge de Sedona. 
Where to Eat: Sedona is very dog-friendly when it comes to eating options. If you're craving Italian food check out the Hideaway House, which offers tasty Italian dog food. The outdoor seating area is dog friendly and offers beautiful creekside views. If you're looking for a large dog-friendly patio check out Vino Di Sedona, which offers tapas and a large patio perfect for sharing with your best adventure buddy. For a more relaxed outing, visit one of the many pet-friendly restaurants in town, like The Hudson or Wildflower Bread Company.
New Mexico 
Taos, New Mexico 
Where to Stay: The Sagebrush Inn is a rustic and historic inn with a beautiful courtyard. Built in 1931, the Sagebrush Inn offers authentic Southwest charm and is dog-friendly. Georgia O'Keefe once stayed at the Sagebrush Inn in the room now known as the Artist's Loft. 


What to Do: Roam around the famous Taos plaza and window shop! Some shops are dog friendly but ask before entering. If you're looking for hiking around the area check out Williams Lake Trail in Taos Ski Valley or the Slide trail if you're looking for desert views. 
Where to Eat: If you need a coffee fix, check out Taos Java. Taos Java offers friendly services and a drive through window so you can grab a pinon coffee and breakfast burrito on your way to Taos Ski Valley. If you're hungry after exploring all day check out Five Star Burger. Five Star Burger has a dog-friendly patio and also offers pick up with a drive through window. Try the green chile cheeseburger!
If you want to keep your car smelling fresh on your next road trip check out our line of car diffusers. 
---