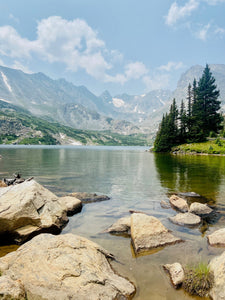 Five Towns to Visit in Colorado
Colorado is known for its gorgeous scenery, breweries, and yes legalized marijuana. Colorado has a little something for everyone whether you are a active hiker or a more laid back tourist who enjoys soaking in hot springs with a microbrew. As a Colorado native, I have the goods on the top five places to visit in Colorado.
Glenwood Springs, Colorado
Glenwood Springs is a cute resort town known for it's hot springs. It's about 3 hours west of Denver making it the perfect weekend getaway.
Where to Stay: If you're looking for a "haunted" experience, stay at the Hotel Colorado. Hotel Colorado has been around since 1893 and President's Hoover and Teddy Roosevelt have stayed here. There's also some more ghostly guests. Hotel Colorado is rumored to be haunted. Visitors have reported seeing the elevator move by itself, strange smells, and some guests have reported hearing screaming.
What to Do: There's so much to do in Glenwood Springs. Visiting the hot springs is a must-do. The Glenwood Hot Springs Resort Pool is one of the largest hot spring pools in town and is easily accessible. If you want less of a pool experience, the Iron Mountain Hot Springs overlooks the banks of the Colorado river and offers a more scenic experience. Also check out the Yampah Spa for vapor caves and a massage. You can also bike the Rio Grande Bike Path which is a 40-mile path that leads to Aspen, Colorado. There are also tons of trails around to hike including: Wolfson, Boy Scout, and Doc Holiday trails, which are all in town.
What to Eat: If you want hearty Italian food in a traditional setting with red and white checkered tablecloths, check out the Italian underground. If you're looking for a cool lunch spot try Slope and Hatch and try their Po Boy Tacos.
Golden, Colorado
Golden is a cute town located in the foothills about 20 minutes outside downtown Denver. Golden is known for being home to the Coors Brewery and the Colorado School of the Mines. It also has amazing hiking options.
Where to Stay: The Table Mountain Inn is located on the main street of Golden and has a cute western theme and beautiful views of the surrounding foothills. The Table Mountain Inn also has a nice restaurant on site.
What to Do: Check out Golden's Main Street with its old-west inspired architecture. Golden's Main Street is known for its many restaurants and gift shops. The Coors Brewery is also located in downtown Golden and they offer tours of the brewery with tastings. Also check out the many hiking options in the area. You can walk along Clear Creek, or if you want views of Golden check out nearby North and South Table Mountain which offer gorgeous views of Golden and Denver.
What to Eat: Buffalo Rose is located on Golden's main street and has an amazing brunch. We also highly recommend the Windy Saddle Cafe for coffee (try their Honey Badger coffee!). If you love wine, try the Indulge Wine Bar which offers patio seating and is dog-friendly.
Ouray, Colorado
Ouray is located in Southwest Colorado and is known as the Switzerland of America since it's nestled in the San Juan Mountains. Ouray is also known for its hot springs and plethora of hiking opportunities nearby.
Where to Stay: The River Run Cabins is located right on a river walk trail and has some pet-friendly cabins if you're bringing your furry friend along. The River Run Cabins is also located next to the Ouray Dog Company, which is a doggy day camp that will watch your dogs for you while you adventure.
What to Do: There are so many hiking opportunities near Ouray. You can do the Ouray perimeter trail which encircles around the entire town of Ouray and provides gorgeous views. Blue Lake hike is also an amazing hike that is about a 45-50 minute drive away from Ouray. Ice Lake Hike and Columbine lake are also located in nearby Silverton, CO. Ouray is also known for it's hot springs with its Ouray Hot Springs Pool and Fitness Center.
What to Eat: Maggie's Kitchen and Goldbelt Bar and Grill are great options for food. They also are dog-friendly and allow dogs on the patio. If you don't want to venture out we recommend ordering from the Mine Shaft Restaurant, which will deliver food straight to your door. We recommend their pizza!
Breckenridge, Colorado
Breckenridge is one of my favorite mountain towns located about 1.5 hours away from downtown Denver. Breckenridge has something for everyone and isn't too far away from Denver.
Where to Stay: We recommend staying at an Airbnb to get a locals feel.
What to Do: If you love skiing, Breckenridge has many options. Breckenridge Ski Resort is great for skiing and Copper Mountain, another resort, is also nearby. If you're not a skier, we recommend taking a stroll in the woods to find Isak the Troll. To find him, park at the Ice Center and locate the signs with a troll on them to find the pathway that will lead you to him.
What to Eat: If you're in the mood for crepes, try Crepes a la Cart. The cart is open seven days a week and so many crepes options to choose from. If you want a place to enjoy comfort food and a beer try Loaded Tavern (bonus: their patio is dog-friendly!)
Idaho Springs, Colorado
Idaho Springs is only a 40 minute drive from Denver and is great for a day trip. Known for its hot springs and hiking, Idaho Springs is right off I-70 headed west and is a great place to stop.
Where to Stay: Lawson Adventure Park offers cabins, yurts and a campsite and also offers a variety of activities to do ranging from zip lining to white water rafting. In winter, they offer snowshoeing or tubing.
What to Do: Idaho Springs is known for its hot springs , mine tours, and its downtown area. If you're looking to experience some hot springs without venturing too far off the beaten path, Idaho Springs has the closest hot springs to Denver with the Indian Hot Springs. Indian Hot Springs is an indoor pool and has several private areas to soak. As a former mining town, Idaho Springs also operates mining tours at Argo and Phoenix Gold Mine. There's also a ton of great hiking near Idaho Springs, including St. Mary's Glacier and nearby Herman Gulch, which leads you to an alpine lake.
What to Eat: One place you must try is Beaujo's Pizza. Known for its Colorado-style pizza with it's thick crust that you dip in honey, Beaujo's is the perfect stop after a hike for a pizza and beer.
If you're looking to bring some Colorado vibes into your shower check out our Colorado Travel Soap Pack.
---