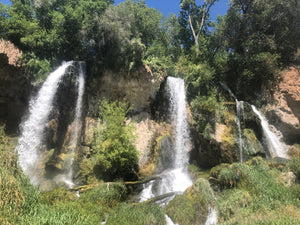 Four Waterfall Hikes to Do in Colorado
Colorado is not only famous for its stunning landscapes but also for its beautiful waterfalls. The state boasts of a variety of waterfall hikes, promising an abundance of natural beauty, tranquility, and refreshing dips. If you're a hiker looking for an adventurous expedition, then you don't want to miss these five waterfall hikes in Colorado. 
Maxwell Falls: Located just an hour from Denver, the Maxwell Falls hike in Evergreen is the perfect day trip. This 3.7-mile trail features a stunning waterfall surrounded by lush greenery. The trail is well-maintained and moderately easy to hike. The refreshing mist and sound of the waterfall provide a serene atmosphere, making it perfect for a peaceful retreat.


Rifle Falls State Park: If you're looking for a family-friendly hiking trail, you should check out Rifle Falls State Park. The hike to the falls is just a quarter of a mile, making it an easy stroll for all ages. This park features three waterfalls cascading down a rock formation into a clear pool of water, making it the perfect place for a swim or quick dip. The park also features picnic areas, campsites, and an outdoor amphitheater, ensuring a fun-filled day trip.

Horsethief Falls: Horsethief Falls located near Cripple Creek is a hidden gem, and the hike is perfect for those looking for a bit more adventure. The hike to the falls is a moderate 2.6 miles, and the trail itself is beautiful, running along a roaring creek. The waterfall itself is breathtaking, cascading 25 feet into a small pool. Spend the day exploring the area, as there are plenty of other trails and scenic spots worth exploring including Pancake Rocks Trail. 


Elk Falls at Staunton State Park: Get ready for an epic adventure on this 14.5-mile trail near Conifer, Colorado! It's known for its challenging route and breathtaking views. Lace up your hiking boots, grab your binoculars for bird watching, and get your mountain bike ready for some serious action. With an average completion time of 6 hours and 39 minutes, you'll have plenty of time to soak in the beauty of this popular area. 
Colorado's waterfalls are a must-see for nature lovers and hikers alike. Whether you're looking for a moderate hike or a family-friendly stroll, these five waterfall hikes offer an abundance of beauty and adventure for a memorable day trip. So, pack your backpack, hit the trails, and take in the natural beauty of Colorado's waterfalls. Happy hiking!
If you're looking to transport yourself to a hidden waterfall anywhere you are, try our Hidden Waterfall Car Diffuser. 
---